Let's go straight to the point. Celestron binoculars are expected to be the leader in astronomy binos. As for Celestron Skymaster, despite being defined as an affordable product, it is expected to well please your requirement for star-gazing and other night sky observation. Therefore, we are going to have this Celestron Skymaster 15×70 review focusing on the astronomy needs.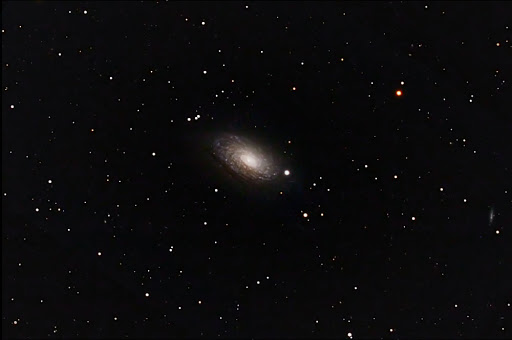 Overview of Celestron Skymaster 15×70 
As we mentioned above, these are cheap binoculars. With a 70 mm objective diameter, apparently its size is larger than common binoculars for nature watching use, that's why it is also called Celestron Skymaster giant 15×70 binoculars. The optics quality of this Celestron Skymaster is much more than decent, plus, it could be used for wider purposes rather than just astronomy. If you wonder about weather, these Celestron binoculars are waterproof.
Technical aspects of Celestron Skymaster 15×70 binoculars
| | |
| --- | --- |
| Technical aspects | Celestron Skymaster 15×70 |
| Magnification | 15x |
| Objective diameter | 70 mm |
| Angular field of view | 4.4 degree |
| Field of view | 231 feet  |
| Exit pupil  | 4.7 mm |
| Eye relief  | 18 mm |
| Close focus distance | 43 feet |
| Diopter adjustment range | -4 to +8 |
| Lenses | Multilayer coated  |
| Prism  | BAk-4, porro prism |
| Weight  | 48 oz |
| Size  | 8.7 x 4.3 x 11.0 (inch) |
| Waterproof  | Yes |
| Nitrogen filled | No |
| Tripod adaptable | Yes  |
These are data taken directly from the home page of Celestron.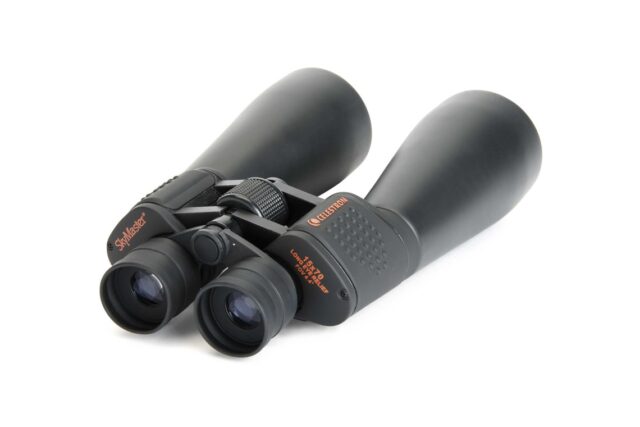 Celestron Skymaster 15×70 binoculars vs astronomy requirements 
Magnification 
This is the appropriate magnifying power you would expect for. 15x would present a large enough image, but still keep a decent field of view for the binoculars. 
Optics quality
With multilayer coated lenses included, the Skymaster binoculars bring a great amount of light transmission. Coming along with a high exit pupil figure (nearly 5 mm), the image shown in front of your eyes would be in great brightness. Moreover, you could expect the viewing experience to be clear, detailed and in high contrast (thanks to the porro prism). To our experience, by having large apertures, those amazing characteristics do actually stay the same in night conditions, even darker than usual situations. 
That could have been a complete viewing pleasure, except for the collimation. It sometimes comes miscollimated. Also, the chromatic aberration, despite not taking place in too large an area, is observable.   
Observable objectives
In this section, let's go through some viewable objectives of these Celestron Skymaster binoculars to give you an idea of what could be enjoyed by these giant binoculars.
Jupiter: This planet could be witnessed through this Skymaster 15×70 as a whole. It shows up brightly,  in clear shape. However, you wouldn't experience a very detailed image in the ocular. One more point to consider is that you may experience a slight amount of chromatic aberration at the edge (red and green) of Jupiter.

Andromeda: This could take nearly no effort to recognize from the ocular. However, it won't be too detailed (you could imagine it's like a little smudge). But that won't be a too big problem. With even cheap scopes, the result won't be much different.

Orion's Nebula: We think this is a very decent experience. Stars around Orion's Nebula are easily recognized. The nebula also shows up in a more than fine presentation. 

Stars/ cluster: Very clear and very wonderful shown up. The images witnessed are sharp enough to give you full pleasure. Color experience is another plus – very vivid and neutral. Moreover, this is also the section that you won't recognize chromatic aberration (although we believe it still appears, but just a tiny amount so that it couldn't be recognized). 

M31's dust lanes: pretty clear.
In general, these Celestron Skymaster binoculars are able to watch wonderfully objectives such as open clusters, large nebulae.
Tripod adaptable 
Unlike other daily nature observation products, tripod is a considerable attribute in making decisions for astronomy binoculars as you would need to fix the huge binoculars for a while. We have known that this Skymaster binoculars is tripod adaptable via the technical data table. The question is: does the manufacturer include a tripod in the full package and how is the experience?
The answer is: Celestron does provide a tripod along with these giant binoculars. Nevertheless, we didn't have a very wonderful experience with this tripod. After making research on other experiences with this added equipment, we couldn't find any better opinion as well. One supportive point is that adapting any tripod with this Skymaster 15×70 is quite easy.
However, we don't think that tripod included in an around $100 astronomy binoculars should be expected to be awesome. It is honest to say that you should buy another tripod to have a comfortable and shaking resistance experience. But as a whole, it shouldn't affect the general pleasure.
Other general requirements for Celestron Skymaster 15×70 binoculars 
Construction 
This Celestron 15×70 is covered by a very firm rubber armor which offers a comfortable grip to avoid any slippery conditions. It is durable enough to be in your backpack for a long while. Plus, this huge binoculars is water, so that longevity is something you wouldn't mind.
Speaking of weight and dimension, we mentioned several times before that this is the Celestron Skymaster giant 15×70 binoculars, so it could be quite clear enough. Obviously, it is much heavier than casual binoculars for nature sightseeing. But honestly, you wouldn't expect a 15*70 binoculars to be so compact. 
Field of view
Compared to other regular binoculars in the market (with the same size 15*70), the field of view is good. However, the close focus distance figure is definitely not impressive.
Eye relief
With 18 mm eye relief, this would bring comfortable enough experience for the eye glasses wearers.
Focus 
The focus knob is smooth and switching focus is comfortable as well.
Versatility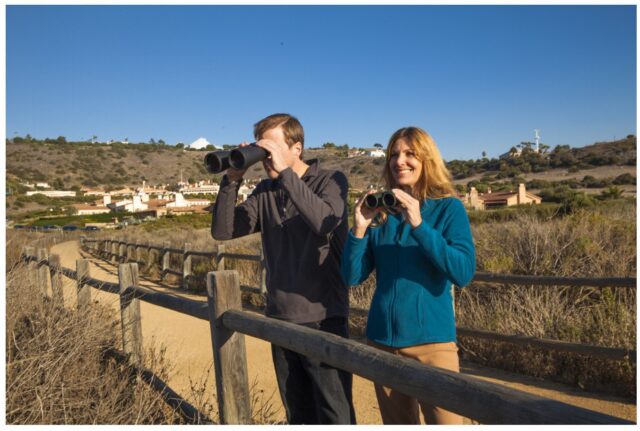 As we mentioned, this Celestron 15×70 could be used for terrestrial purposes. Let's see how good it is.
Bird watching – 2.5/5: It won't be the best experience because the weight of this Celestron Skymaster giant 15×70 binoculars would depress you as you would hold the binoculars in a specific height for a while. However, the field of view and the optics quality is decent enough to make you bring along a tripod and enjoy. 

Nature observation – 2.5/5: The features of these Skymaster 15×70 would make you pleased. However, if you're planning to watch insects or flowers, better think twice because of the unsuitable close focus distance. 

Hunting – 3.0/5: In our opinion, this experience could be the best of land use. If you're experienced enough, placing the Celestron Skymaster giant 15×70 binoculars in a fixed, then the rest is just enjoying the trip. Especially, the smooth focus system and great contrast would contribute to an efficient hunting trip.

Sports speciation – 2.0/5: Not so fine. Being in a crowded place with these giant binoculars is not a good idea.
Verdict for Celestron Skymaster 15×70 binoculars
Do we suggest these 15×70 binoculars? If we're talking about novice level to medium in astronomy, then yes. This Celestron Skymaster is definitely a great start to casual astronomy.
It is a good 15×70 binoculars, for good optics quality, amazing experience with open clusters and nebulae. Despite being giant binoculars, it is tripod adaptable and the price is too cheap so that you wouldn't mind buying a new tripod to replace the lousy one of the supplier, and enjoy the viewing journey. However, we won't recommend this for professional/ work purposes or replacing a scope. 

Hence, if you're just about to find a cheap regular astronomy binoculars, this Celestron Skymaster's performance will blow your mind.