If you're a lover of binoculars, you've probably heard of the Vortex Viper HD 10×42. And if you're not, and you're in search of the best binoculars for bird watching or the best binoculars for hunting, or just the best 10×42 binoculars overall, at a good price, then you should really consider getting the Viper HD.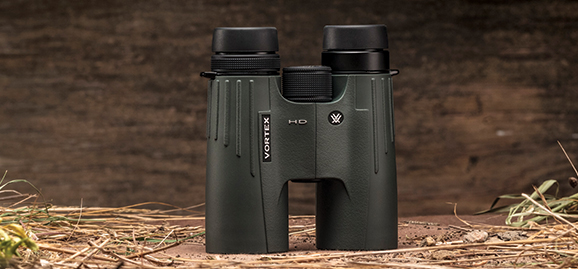 An upgrade to the 8×42 version, the Viper HD 10×42 contains some qualities that qualify it as one of the best binoculars around. To cement this claim, I've decided to do an extensive review of this particular model's main features. This review is based entirely on my personal testing of the model. Let's begin!
Vortex Viper HD 10×42 Binoculars Review
The Vortex series is made in Japan and come with high-end optics. However, as opposed to 'alpha' model binoculars which are often very good but at an excessive cost, the Viper HD series aim for performance and user utility at a good value for money. This upholds Vortex binoculars as one of the best performing binoculars for how much they cost. In fact, Vortex binoculars are one of the most popular types on the market.
Main Specifications and Features
Design: Single bridge body
Dimensions: 5.75in (14.6cm) x 5.24in (13.3cm)
Weight: 24.6ozs (697g)
This binocular boosts of some impressive eye-catching optical stats:
Field of View: 319ft at 1000yds; great for hunting
Close focus: min. focal distance is about 5.1ft. You can zoom in on flowers, insects, and even birds; which is great!
Eye Relief: 16.5mm; good fie eye-glass wearers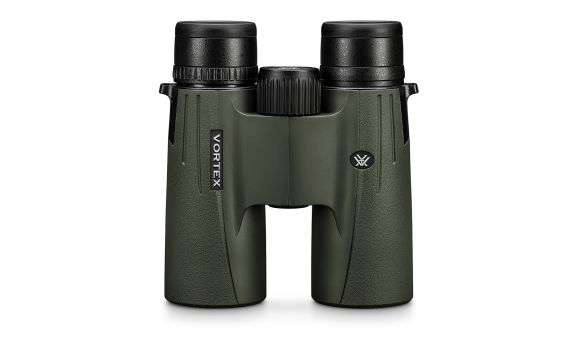 Standout Features
Single Bridge Body Design
The Vortex Viper HD has a single bridge body design, which is custom for modern full-sized roof prism binoculars. Hence it feels very comfortable and well balanced. I noticed on the underside of the binocular that there are two small thumb indents to enable users to hold it in the correct way. This slick design eases bird watching as you can move your binoculars about easily without it slipping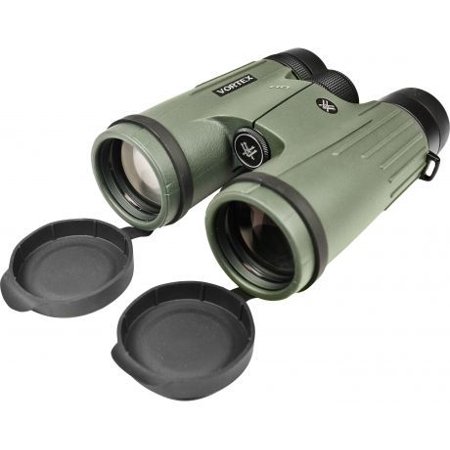 Slick Focus Wheel
You'll discover that the focus wheel of the Vortex Viper HD 10×42 is centrally located, also nicely set and looks great! Its large focus wheel has very good grip supported by its tactile stippled exterior. Although the focus wheel may differ from the somewhat conventionally smooth wheel, you'll see its benefit best in winter conditions when you're forced to wear thick gloves. You'll need loads of grip in such conditions. If you hunt in the winter, this feature in your binoculars is very paramount.
Lockable Diopter Ring
Like all Vortex Viper binoculars, this binocular have a dioptre that is lockable. Its dioptre located on the right eye-piece, the model helps you lock in your preset optics. This is a pretty cool feature as your dioptre settings can't accidentally shift or readjust.
I must admit, this is an often overlooked feature, but when you think about it, a lockable diopter ring is a fantastic indicator of quality. You'll understand the importance of a locked on diopter ring when you go bird watching.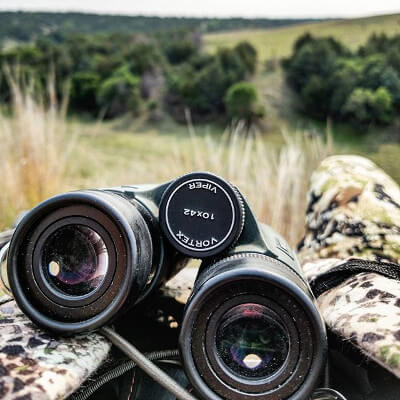 100% Waterproof
As aforementioned, the Vortex Viper HD binocular is fully O-ring sealed and is therefore waterproof. For its price, such features are to be expected. However, what sets the Vortex binocular apart is the fact that it uses Argon gas and not the conventional Nitrogen gas. Argon gas is more resistant to diffusion. The best time to watch birds is preferably at dawn. There is always often a fog at early hours and this one is fog proof.
Adaptable Tripod
At some point, if you need to attach your binoculars to a tripod, know that the Vortex Viper HD has a screw thread that fits into many adaptable tripods. What can't this model do, really?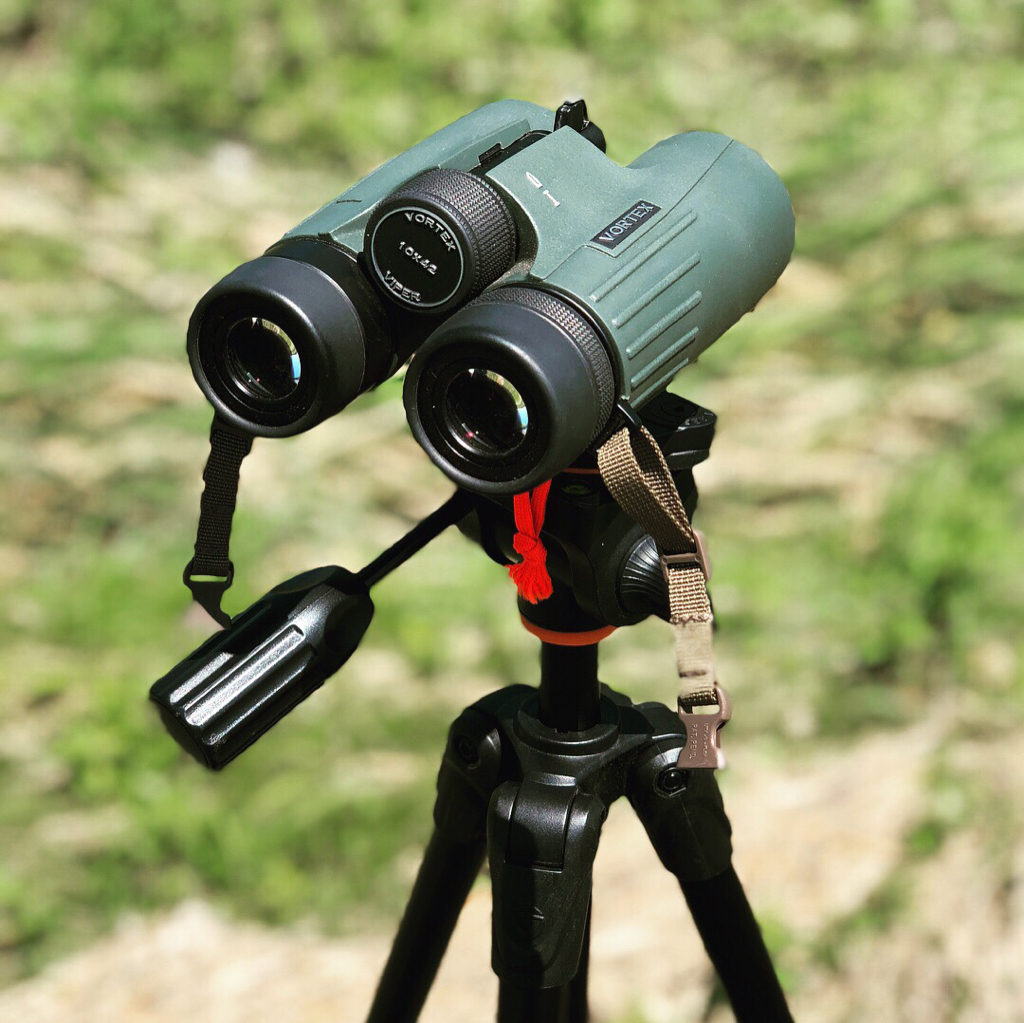 Construction Materials and Durability
This binocular has great roof prisms stand out because they are corrected and dielectrically coated as well. Most high-level binoculars have less reflective silver mirror coatings but the Vortex's allows 99% of light to enter the prism for a brighter view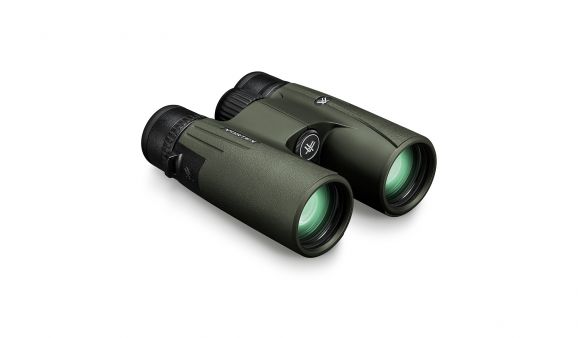 The Vortex Optics has tough exterior coatings on the exterior glass surfaces that protect the lenses from scratching. Little chance of leaving marks when cleaning the lenses.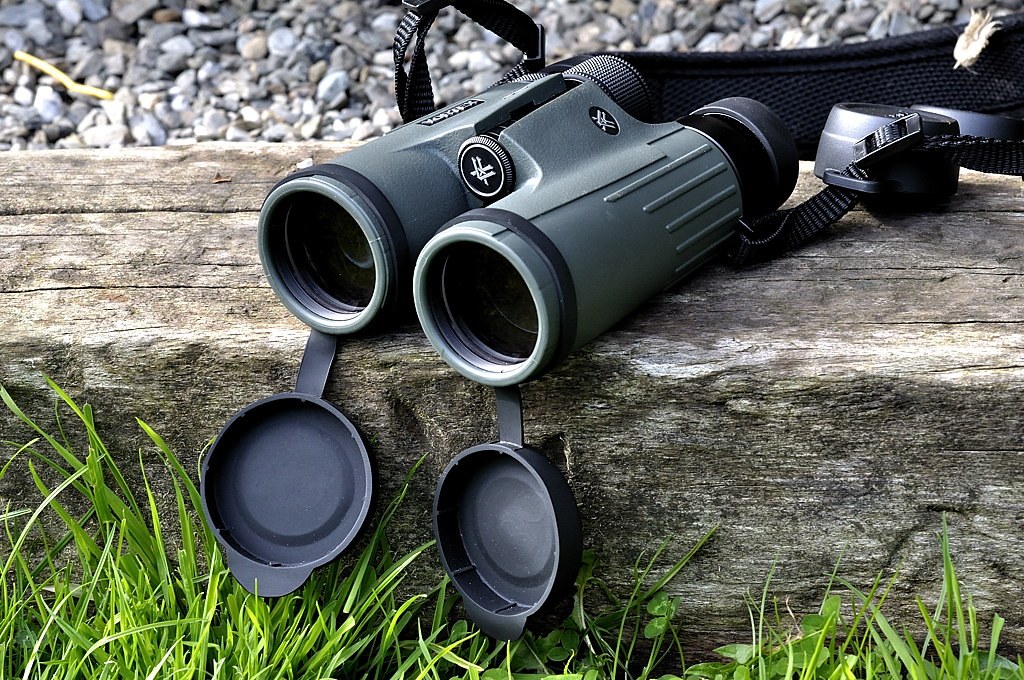 The Viper HD comes with the usual accessories: a carry case, lens covers cleaning cloth and a quality neck strap.
And the warranty: It's for a lifetime! Beat that!
And a very reasonable price for such amazing features
Let's check the lastet price on Amazon
Weaknesses
For a mid-high value binocular, the Vortex Viper HD 10×42 exceeds expectation. But like everything in life, this binocular suffers some short co-suffer
Heavy
Although it is very functional, it's not the most comfortable binocular around. To be honest, for its price, there are many better comfortable binoculars on the market. How heavy is it? Well, you may find yourself carrying your binocular in your backpack a lot. The case straps are fine; however, they could be longer.
If you consider about the weight, try out the Vortex Viper HD 8×42 to see if it pleases your effort. However, magnification of Vortex Viper HD 8×42 is lower than Viper HD 10×42, which means the image viewed is smaller.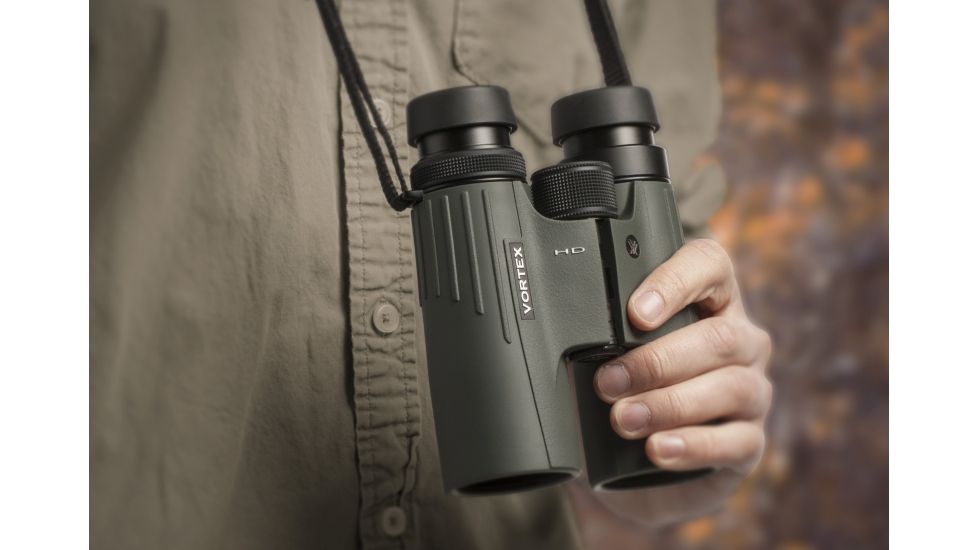 Visibility Issues
Don't get this totally wrong. This Vortex has great optics. You could zoom in at hillsides from 1000 yards away and it would still look fantastic. But on hot days, the heat waves affect visibility negatively. The best time to enjoy your Vortex Viper binocular would be to use them early in the morning or evening hours (even with little light).
Quality Control Issues
Well, I don't do PR or regulate quality control for the Viper HD series manufacturer, but there are sometimes cases of defective products. So if yours doesn't meet expectation, give Vortex a call and they'll get it changed..
Brand battle: Vortex Viper HD 10×42 vs Zeiss Terra ED 10×42
Zeiss Terra, the "tank force" German vs "Captain America Vortex Viper HD". This brand battle seems appropriate to see broader what the Vortex Viper HD could do. They do have nearly the same price, both wonderful for outdoor activities. Let's see how the Zeiss Terra and Vortex Viper binoculars are beating up each other. But first, have a glance at the technical data.
| | | |
| --- | --- | --- |
| Technical aspects | Vortex Viper HD 10×42 | Zeiss Terra ED 10×42 |
| Magnification | 10x | 10x |
| Objective diameters | 42 mm | 42 mm |
| Field of view | 319 feet | 375 feet |
| Close focus distance | 5.1 feet | 5.2 feet |
| Eye relief | 16.5 mm | 14 mm |
| Focus type | Center  | Center  |
| Exit pupil diameter | 4.2 mm | 4.2 mm |
| Weight  | 24.6 oz | 24.34 oz |
| Dimension  | 5.8 x 5.3 (inch) | 5.6 x 4.7 (inch) |
| Lens coating | Multi layer coated, anti-reflective  | Multi layer coated, hydrophobic |
| Prism  | BAK-4/ roof prism | BAK-4/ roof prism |
| Waterproof  | Yes  | Yes  |
This is a sure win for the Zeiss Terra. 319 feet from the Vortex Viper binoculars are significantly lower than 375 feet of the Zeiss. It would make a difference in experience. 
For close focus distance, although the Vortex Viper HD binoculars are a tiny bit better, it makes no difference.
In general: Viper Vortex <  Zeiss Terra
Speaking of weight, these two are quite identical. the Viper Vortex is a little bit heavier, but you won't realize it when bringing or holding. However,  dimension has something to mention. The Zeiss binoculars 10×42 are significantly smaller in size than the Vortex Viper HD binoculars. This implies a little larger space it takes for the Viper HD 10×42 in the backpack.
In general:
+ Weight: Vortex binoculars 10×42 ~ Zeiss binoculars 10×42
+ Dimension: Vortex binoculars 10×42 < Zeiss binoculars 10×42
To our experience, the Viper optics are brighter and sharper. Besides, it shows less chromatic aberration and more contrast from the Viper Optics. Color fidelity is also another strength of the Vortex optics binoculars. The ED Terra Binoculars seems to have a yellowish tone. While the color from Vortex optics binoculars is more neutral and natural. Don't get us wrong, the brightness, sharpness, contrast of the Zeiss Terra is still good, but the Vortex Viper binoculars 10×42 shows the difference in class.
In terms of low-light performance, the Zeiss Terra 10×42 shows a little bit better results than the Vortex Viper binoculars 10×42. There's only a tiny amount of glare when watching high contrast image in cloudy days with the Zeiss Terra. On the other hand, the Vortex HD binoculars are still good, but the performance is not there yet.
In general:
+ Brightness: Vortex Viper 10×42 > Zeiss Terra
+ Contrast: Vortex Viper 10×42 > Zeiss Terra
+ Color reproduction: Vortex Viper 10×42 > Zeiss Terra
+ Sharpness: Vortex Viper 10×42 ~ Zeiss Terra
+ Chromatic aberration: Vortex Viper 10×42 > Zeiss Terra
+ Low – light performance: Vortex Viper 10×42 < Zeiss Terra
They are both durable but we feel the rubber cover of the Vortex HD binoculars a little bit thicker and stronger.
This battle shows that, the Zeiss Terra has better advantages than the Vortex 10×42 HD in terms of compactness and ergonomics. However, the Vortex 10×42 HD really shows their outstanding performance compared to other similar market segment products.
Decision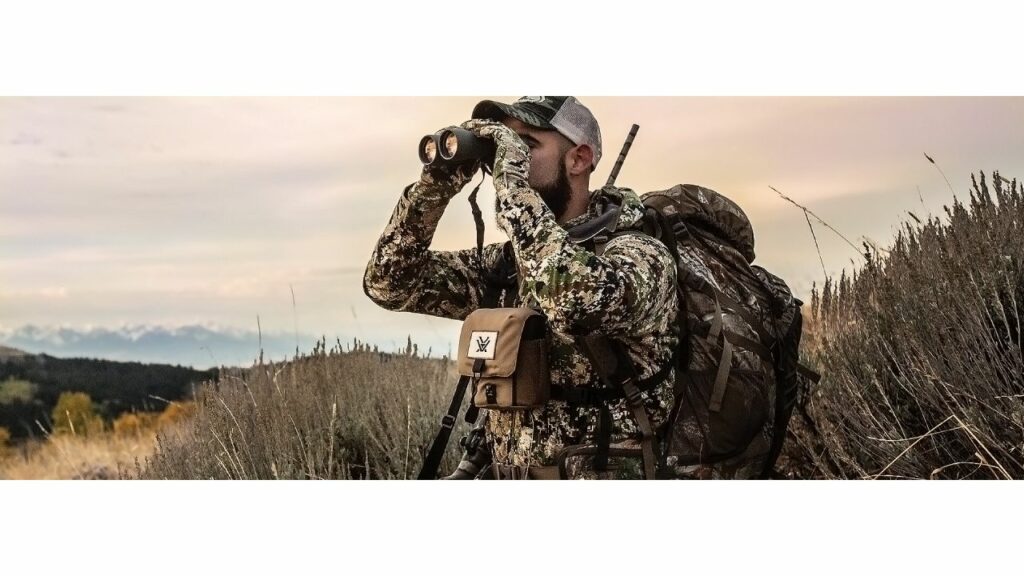 The Vortex Viper HD 10×42 binocular is a very wonderful high-end optical gadget which merits a higher price really if you consider the quality features, extra components and precise attention to detail. With such fine features as these, you can use the Vortex binoculars for bird watching, outdoor sports, safari & travel, general wildlife observation, hunting, marine use & astronomy.  It may just about be one of the best binoculars for hunting if it isn't already one of the best binoculars for bird watching.
Vilis-bino
List of Vortex Binocular Reviews